Jan 02, 2023
ZTE LiveBuds: Seamless And Improved Performance
---
People use earphones on a daily basis. It can serve to be quite a useful tool for people for many different reasons. Today we are in the time for things being delivered to us instantly including music, tv and movies through streaming services as well as video calls and other methods of communication. In most of these situations earphones are essential in a modern busy lifestyle.
You may be out to look for a new pair of earbuds and are curious about exactly which buds you would like to go out and buy. There may be a number of things that you are looking for with your earphones that can help you get through the day. We will explain to you how the ZTE Live Buds can help your life become just that little bit better by giving you ways they can help you.
Having Important Calls
I am sure we have those days when we have important calls incoming that we have to answer no matter how noisy of an environment we are currently in. This can be an issue if you are not equipped with technology that is unable to block out background noise. The ZTE Live Buds address this with ENC Noise Reduction technology. Thanks to the intelligent noise reduction chip, the earbuds are able to suppress environmental noise, making them perfect for taking phone calls with.
Fast Paced City Life
A fast lifestyle in the city demands a lot of convenience throughout the day so naturally we want to ensure that we do not need to deal with inconvenient and fiddly buttons. The ZTE Live Buds include touch controls that eliminate the need for buttons. The touch controls are simple, using various touch commands to seamlessly operate the each function of the ZTE Live Buds.
Relaxing To Music
When we are eventually home and ready to relax and unwind by listening to our favorite music. To truly relax we would like a pair of earphones that doesn't make us uncomfortable so the ZTE Live Buds lightweight design are made with corfort in mind to ensure that you do not even notice you are wearing them once you are in your own music world.
Watching Movies
We also like to enjoy movies in our free time but sometimes we have to deal with our movie session being abruptly cut short thanks to low battery, ending your movie session. The ZTE Live Buds have a high capacity battery with up to 4 hours of single use to allow you to finish your movie.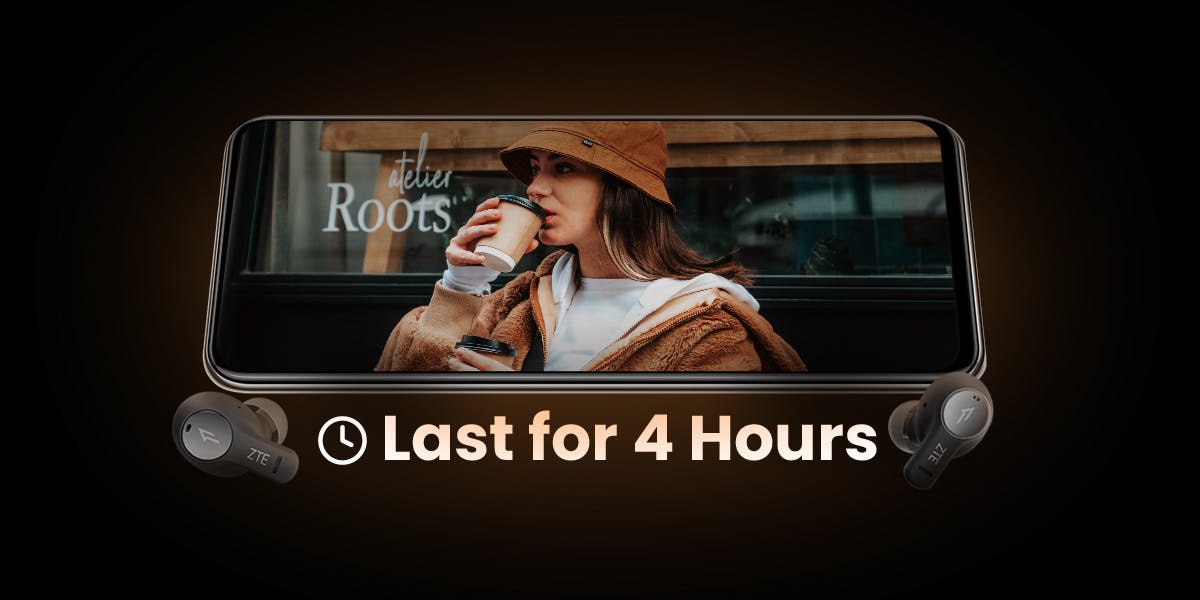 In Conclusion
People live very fast lives today which has increased peoples' need for high quality earphones that can help them with their daily lives. There are however many shortcomings from many earphones which can include low battery life, uncomfortable experiences wearing them and poor quality microphones which make using them for calls very difficult. ZTE Live Buds were created to address these many issues so that you have a much better experience and a much easier life.
---